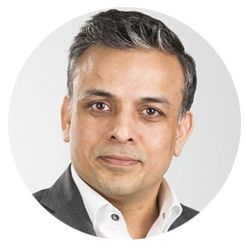 Co-founder & COO of Autonxt Automation Pvt Ltd
With a visionary mindset and a passion for innovation, Pankaj Goyal has played a pivotal role in driving forward the transformation of the agricultural and automotive sectors backed by his leadership roles and experience in managing large P&L and Marketing sales and R&D operations across north Europe and Greater India zones.
With his last assignment as Vice President with Schneider Electric for Digital Transformation and having established a modern concept based school, Brainwaves International School, in Hapur, now as the co-founder & COO of Autonxt Automation Pvt Ltd, Pankaj Goyal has been at the forefront of revolutionizing the way we perceive and utilize modern technology in agriculture and transportation. His dedication to sustainability, efficiency, and cutting-edge solutions has propelled Autonxt Automation to the forefront of the EV and autonomous tractor industries.
Under Pankaj Goyal's leadership, 
Autonxt Automation has embraced the challenges posed by the global shift towards electrification and automation and evolved the production ready tractor with supply chain ready to make 3 variants of Autonxt EV tractors.
UPCOMING SESSION(S) by this Speaker