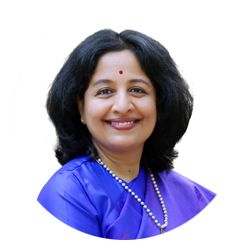 CVP & Head – EdTech Business | - HCL Technologies
Srimathi Shivashankar is the Corporate Vice President and Business Head of EdTech Services at HCLTech. Srimathi has 25+ years of work experience in managing and transforming businesses. At HCLTech she has been instrumental in strategizing and leading programs such as operationalizing new HCL delivery centers, Diversity and Sustainability practices, HCL Foundation, and HCL Grant. She is passionate about inclusive development and explores ways to build business eco system with talent from diverse backgrounds She holds a Bachelor's Degree in Computer Science and Engineering from the National Institute of Technology, Tiruchirappalli, which has recognized her accomplishments through the Distinguished Alumna Award, and an MBA in International Business Management from Ohio University. 
She won the WeQual Award in 2021 in the Business Transformation category, and was named in the top 25 Women leaders in Consulting for 2022 by the Consulting report. 
Srimathi has been a key speaker at various international forums, most notably in UN, WBCSD, World Investment Forum, WEF, NASSCOM, and CIl. She continues to participate as committee member for drafting policies both at Global and National levels.
UPCOMING SESSION(S) by this Speaker
THE JOURNEY MATTERS (Read more about this session)