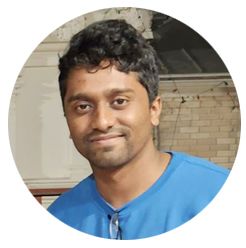 Senior Software Engineer | Nvidia (USA)
Vasuki Shankar is a Senior Software Engineer at Nvidia, specializing in the field of operating system design, computer architecture, chip security, and chip bring up. With a career spanning multiple industry giants, Vasuki's expertise has been honed through previous roles at Qualcomm and Samsung Semiconductor. 
Vasuki holds a Bachelor's of Engineering degree in Electronics and Communication, along with a Master of Science in Computer Engineering. His passion lies in computer architecture, a subject that constantly captivates his interest and drives his work at the intersection of hardware and software. 
Beyond his technical endeavors, Vasuki is committed to mentoring both undergraduate and graduate students. He actively guides their projects, encourages paper presentations, and nurtures innovative endeavors. Outside of his professional realm, Vasuki is an avid painter and has showcased his paintings in solo exhibitions.
UPCOMING SESSION(S) by this Speaker
OVERVIEW ON CHIP SECURITY: CHALLENGES TO COUNTER MEASURES (Read more about this session)